Thanks for checking out the site. You can now download issues on iOS, Android or computer.
Here are the download links:
iOS devices (iPad, iPhone, iTouch) – Recommended
Android devices (Phone and Tablets)
Free 7-Day Trial (Plus BONUS Month For Sharing Your Info)
To get free access for 7-days (and an extra BONUS month subscription if you share your info) just:
Click on 'Subscribe' > 'FREE Magazine Trial' > 'Confirm' > 'Allow' (For your BONUS month)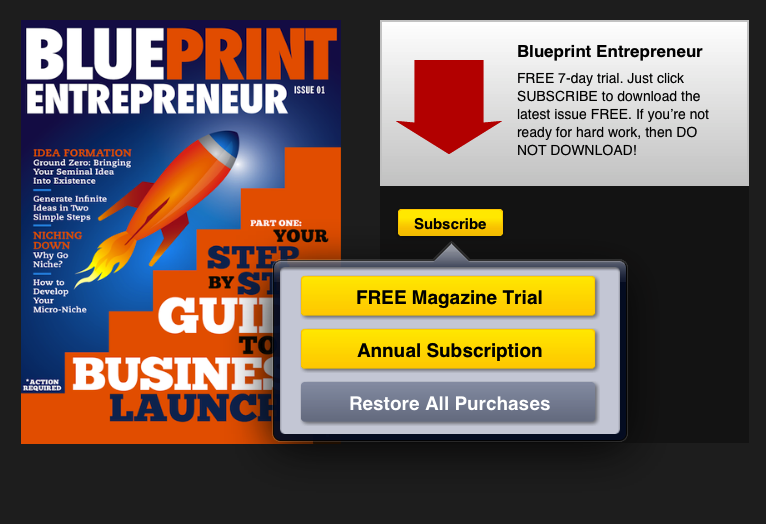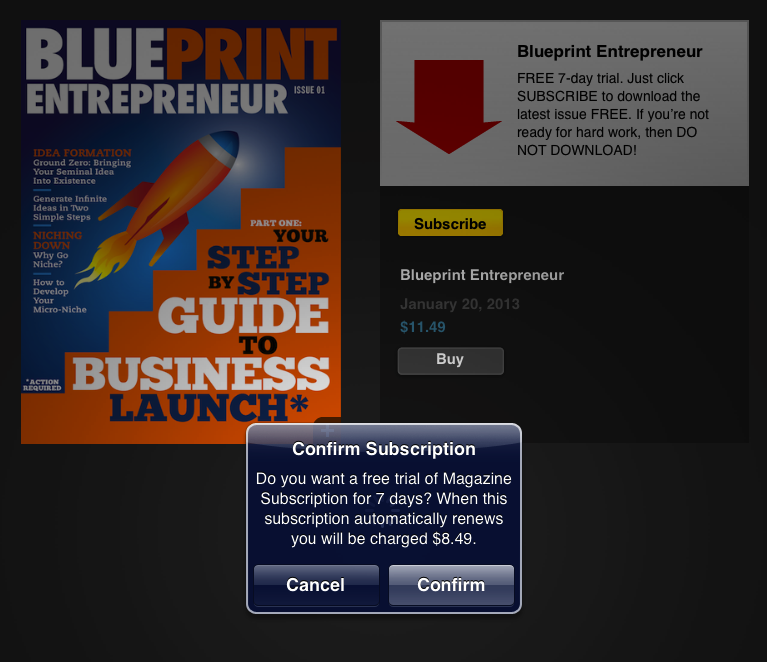 How To Unsubscribe
If you think its the worst thing ever or if you just want that free mag, just follow the instructions:
Written Instructions: Here are the steps, On your iPad, Tap on Settings App, Scroll and Tap on Store, Scroll down and Tap on your Apple ID,Then Tap on "View Apple ID", Enter your Password, Scroll Down and Tap on Manage in the Subscriptions Section, You will see your Magazine subscriptions, Tap on the one you want to cancel. Your Current Subscription details will be shown, Turn auto-renewal to OFF.
Contact Information
If you think its great or have any questions – please let me know at jamie[AT]blueprintentrepreneur[DOT]com. If you hate it – you can also let me know I guess 😐 but remember I'm a person with feelings and what not… most of the time!
So why are you still reading this?
Go download that free issue now!
Preview of Issue
[scribd id=212425705 key=key-2m7biu1iu2klcckffh1j mode=slideshow]